If you are selling a Metropolitan in the UK, you can have your advertisement posted on this notice board free of charge - send your details to
Please note that whilst ads are displayed on this site, this does not imply Club endorsement of any item or advertiser. It is not possible for the Club to check any of the items displayed so it is the responsibility of potential purchasers to ensure themselves that the item meets their approval in terms of both standard and price.
Wanted by Club member
Early style exterior drivers side door handle (has small triangle fixing) with locking hole and,
if possible, with locking mechanism and key.
Please call Lynden Downs on 01647 252730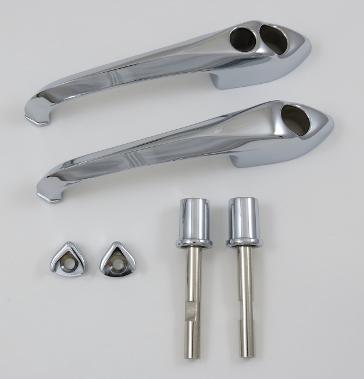 Austin Metropolitans for Sale
1957 Berkshire Green and White Hardtop for Sale
Very good condition - showing 27,568 miles
Contact Adrian on Mobile - 079611 21347 for further details (Buckinghamshire area)
1961 Yellow and White Convertible for Sale
Same ownership since 1991.
Good condition showing circa 46,000 miles
Offers around £13K
Call Peter for further details (Nottingham area) on -
HOME..01159 282761.
MOB...07722 2849981
Rear Cross-member for sale
Quality handmade exact replica of original
Price £200 + P&P
Contact Pete Whetstone on 077680057294 or 02476 396359

Wanted by Club member
Back copies of MOC magazines from August 2005 to September 2009
If you can help, please ring Paul Harris on 01435 813425
Key Ring Lapel Badge
£1.00each £1.00 each
All items plus post & packaging
Contact steve@metclubuk.com